Following Uterine Fibroid Embolization
Fibroid embolization usually is done as an outpatient procedure, or may  require a hospital stay of one night. Pain-killing medications and drugs that control swelling typically are prescribed following the procedure to treat cramping and pain. Many women resume light activities in a few days and the majority of women are able to return to normal activities within seven to 10 days.
UFE Efficacy
On average, 85-90 percent of women who have had the procedure experience significant or total relief of heavy bleeding, pain and/or bulk-related symptoms.

The procedure is effective for multiple fibroids and large fibroids.

Recurrence of treated fibroids is very rare. Short and mid-term data show UFE to be very effective with a very low rate of recurrence. Long-term (10-year) data are not yet available, but in one study in which patients were followed for six years, no fibroid that had been embolized regrew.
Additional UFE Facts
An estimated 13,000-14,000 UFE procedures are performed annually in the U.S. (as of 2004)

Embolization of the uterine arteries is not new. It has been used successfully by interventional radiologists for more than 20 years to treat heavy bleeding after childbirth.

Embolization has been used to treat tumors since 1966. Embolization to treat uterine fibroids has been performed since 1995 and the embolic particles are approved by the FDA specifically to treat uterine fibroid tumors, based on comparative trials showing similar efficacy with less serious complications compared to hysterectomy and myomectomy (the surgical removal of fibroids).

Embolization of fibroids was first used as an adjunct to help decrease blood loss during myomectomy. To the surprise of the initial users of this method, many patients had spontaneous resolution of their symptoms after only the embolization and no longer needed the surgery.

UFE is covered by most major insurance companies and is widely available across the country.

Most women with symptomatic fibroids are candidates for UFE and should obtain a consult with an interventional radiologist to determine whether UFE is a treatment option for them. An ultrasound or MRI diagnostic test will help the interventional radiologist to determine if the woman is a candidate for this treatment.

Many women wonder about the safety of leaving particles in the body. The embolic particles most commonly used in UFE have been available with FDA approval for use in people for more than 20 years. During that time, they have been used in thousands of patients without long-term complications.
Effect on Fertility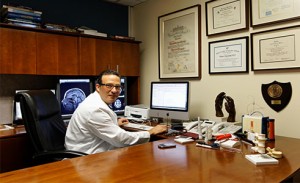 There have been numerous reports of pregnancies following uterine fibroid embolization, however prospective studies are needed to determine the effects of UFE on the ability of a woman to have children. One study comparing the fertility of women who had UFE with those who had myomectomy showed similar numbers of successful pregnancies. However, this study has not yet been confirmed by other investigators.
Less than two percent of patients have entered menopause as a result of UFE. This is more likely to occur if the woman is in her mid-forties or older and is already nearing menopause.
Risks
UFE is a very safe method and, like other minimally invasive procedures, has significant advantages over conventional open surgery. However, there are some associated risks, as there are with any medical procedure. A small number of patients have experienced infection, which usually can be controlled by antibiotics. There also is a less than one percent chance of injury to the uterus, potentially leading to a hysterectomy. These complication rates are lower than those of hysterectomy and myomectomy.